REV3K Fitness Refined
At REV3K you don't just get a gym that will push you to look and feel better. REV3K is about lifestyle change; we focus on training your body and mind to ensure that you develop the proper techniques to live a long and health life.
Our total body fitness philosophy is all about:
Motivating you to get active and move,
Teaching you proper exercise techniques,
Learning about health and nutrition,
And redefining yourself.
Our training philosophy is based on a mixture of Olympic training experience by coach Lieja Koeman, modern circuit training, anaerobic pathways and metabolic conditioning.
Our community
At all of our classes and programs, expect to see a mix of athletic ability working side-by-side and motivating each other. Our members include people who have never worked out a day in their life to triathletes and professional athletes.
Our community is the foundation of REV3K. We will keep you on track and become a second home where you feel welcome and prepared to push yourself to the next stage of your fitness.
Coach Lieja Koeman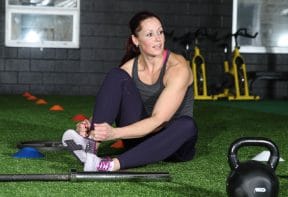 CrossFit Level 1
Business Administration Degree
2-Time Olympic Shot Put Finalist
Top 10 world ranking in Shot Put for over a decade
World Athletics Finals – Bronze 2004
European Finals – Bronze 2002
I was born and raised in The Netherlands and started track when I was 8 years old. After watching the 1988 winter Olympics in Calgary, it became my goal to compete in the Olympics myself one day. I represented The Netherlands in the shot put during the 2000 and 2004 Olympics and made top 10 both times. I moved to Canada in 2002 and became a Canadian Citizen in 2006 while pregnant with my daughter Julia. After missing the standard for the 2008 Games at the Olympic Trials, I retired after 25 competitive seasons and had my second daughter Jenna in 2009. I always knew I wanted to share my experiences of all the training concepts I came across during my career with others, so I started my own gym to offer a revolutionized training concept that would cater to everyone who wants to live a healthy lifestyle. To be able to change people's lives every day is living my passion every day.